Achieved a Ringmaster's Feat
Each year, Funds For Learning sends out an annual "E-rate Survival Kit" to encourage E-rate applicants through the filing window. The Survival Kit is an annual tradition that many applicants have come to expect. The free Kit is packed full of goodies, plus it is gift-rule friendly, valued under $20.

Today, in a company-wide meeting, FFL unveiled its eighth annual Survival Kit. The Kit is centered around a circus theme featuring the three-ring event: Adapt, Accelerate, and Achieve. So, why the three-ring event?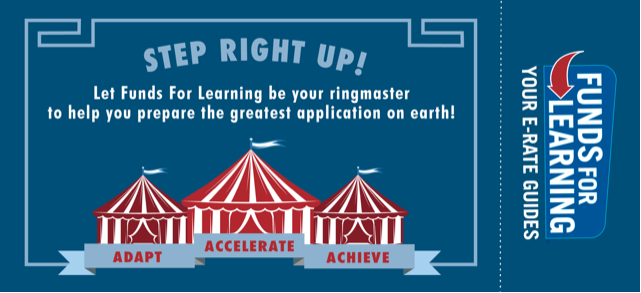 The marvelous event will help E-rate Applicants navigate through a successful filing window.
Adapt to the E-rate flaming hoops, cannons and tightropes by gathering documentation and procuring services.
Use the Webinar ticket to accelerate your E-rate knowledge.
You've achieved a ringmaster's feat! Congratulations on finishing the greatest E-rate application on earth.
The Survival Kits will start shipping exclusively to FFL clients in early December and additional Kits will ship early January.
Click
here
to request yours today.