FFL Mentors Peace Through Business Women Entrepreneurs
Funds for Learning, LLC is honored to be affiliated with the Institute for Economic Empowerment of Women (IEEW) and is especially proud of our president, Cathy Cruzan, who became a member of the IEEW Board of Directors in January of this year.
As a member of the board, Cathy joined the
PEACE THROUGH BUSINESS®
Leadership Development, an annual business training and mentorship program for women entrepreneurs in Afghanistan and Rwanda. This program, established in 2007 by Oklahoma City entrepreneur and women-in-business advocate Dr. Terry Neese, educates women in war-torn countries, develops their business and leadership skills, promotes women in the business community, and helps the economy by building stable democracies.
A ten-week basic business training program through classroom education is provided to 30 women from each country in Kabul, Afghanistan and Kigali, Rwanda. The top 15 students from each country are then invited to come to the United States for two weeks of additional training and mentoring. The invitation includes all travel costs and other expenses associated with making the trip, which is paid by the sponsors and mentors. AT&T provides the venue at the AT&T University in Las Colinas, Texas, and after the first week, the students travel to their mentor's homes and offices for hands-on business experience, training, and a little culture shock.
Funds For Learning had the privilege of mentoring two PEACE THROUGH BUSINESS® women entrepreneurs the last full week of July. Our guests were Nazila Kakar from Afghanistan and Rachel Kakize, a native of Rwanda. Nazila owns a dairy production and canning operation, Taza Food Products, and Rachel owns a medical supply company, PrimaMed Technologies LTD.
Both women visited us at the Funds for Learning office in Edmond, Oklahoma, while staying as guests of Cathy Cruzan and her family for several days. Nazila and Rachel were escorted to various Oklahoma businesses in their fields of expertise, giving them new ideas for developing their organizations.
Cathy and Rachel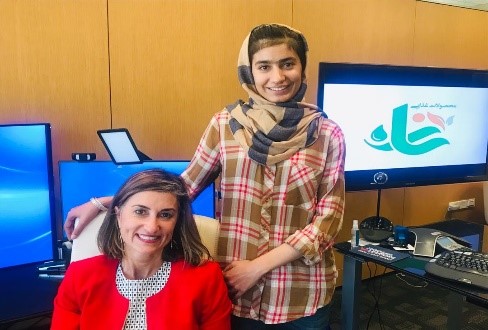 Nazila visited the Wagon Creek Creamery in Helena, Oklahoma, and chatted with the Crain family, who operate the dairy. They provided a very enlightening tour of their production facility, and Nazila learned several different processing methods for dairy products and canning, all of which provide invaluable insight on how she can improve the production system for her customers.

Cathy and Nazila with the Taza Food
Products logo on the computer screen.
Rachel took a tour of the Diagnostic Laboratory of Oklahoma, escorted by Dennis Hogle, CEO, and Kimberly Holloway, the Laboratory Operations Director. She was impressed at size of the laboratory and how much research is being conducted at the multiple sites.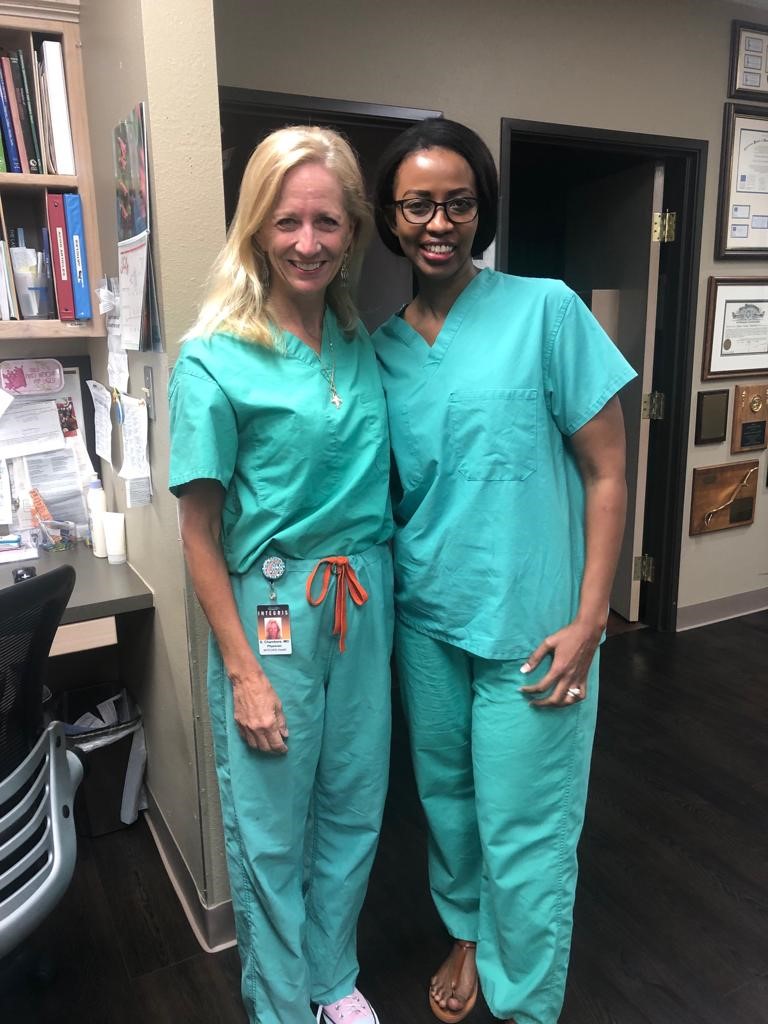 Kimberly Holloway, Rachel, and Dennis Hogle
at DLO offices in Oklahoma City.
Rachel spent an afternoon at
the office of
Dr. Susan Chambers
, located at the Lakeside Doctors Gynecology & Obstetrics office in Oklahoma City.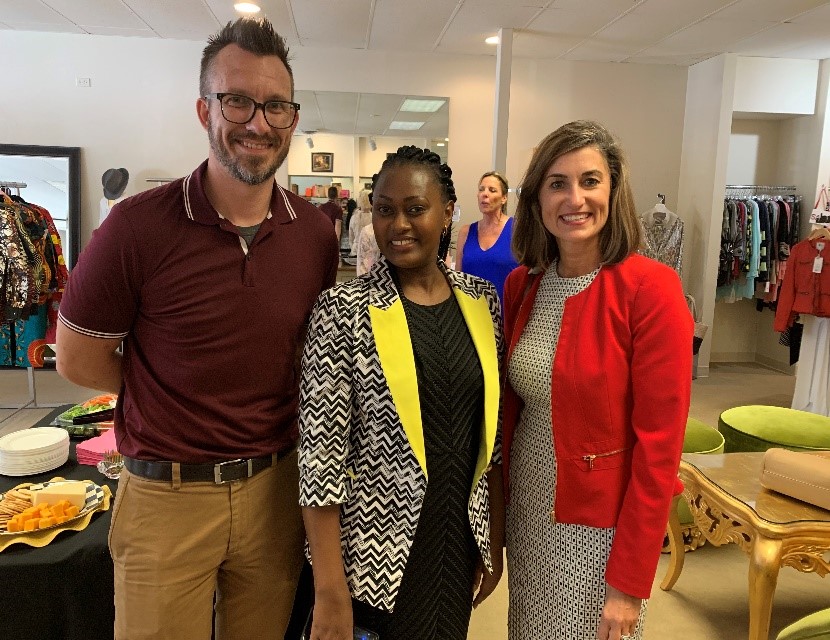 FFL's Nick Shipley with Jeannette Gakwandi, from Rwanda and Cathy at the Pop-Up Shops, one of the PTB events in Oklahoma City.
The two weeks of activities culminated in a Graduation Gala in Irving, Texas, on Friday, July 26. Speakers were Nicole Anderson, AT&T AVP of Corporate Social Responsibility and President of the AT&T Foundation, Dr. Terry Neese, CEO of the Institute of Economic Empowerment of Women (IEEW), and Medina Qasimi, Minister Counselor and Charge D'Affaire of the Embassy of Afghanistan to the United States. This was the 13th class to graduate from this empowering program.